Currently we do not have a Season Ticket for ParsTV.





You do not need to login with an email address and password. You will use your Customer Number and SEAT number to get direct access to the stream. Please Logout.

Go to the Season Ticket box and enter your Customer ID and Seat details (with or without spaces) e,g SSCC-G-65

You will then be taken to the Live stream page. Note that it may say offline, if it is more than an hour prior to the stream starting.

In some cases Ipads and some devices indicate an error condition. This is normal OK for iOS, it will be resolved when the stream goes live.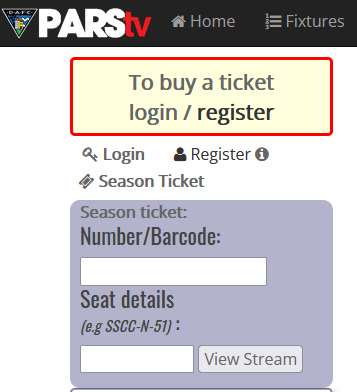 This is because your Customer Number (Season Ticket number) or Seat details don`t match up with the information stored for you in our database.

We recommend that you use our online support option below to ask us to confirm your Number and Seat Details. When we are online we can do this fairly quickly.

Use your Barcode Number and Seat number e.g SSCC-G-34

Season Ticket Holders do not need to login to the system.




for season 2021-2022 we do not use Postcode, use Seat details instead.




Yes, your Customer ID and Postcode will remain the same for each match





This is because your Customer Number (Season Ticket number) or Post Code don`t match up with what we have stored for you in our database.

For any queries around this you should contact matthew@dafc.co.uk